26th February, 2018
YWSP shortlist now chosen!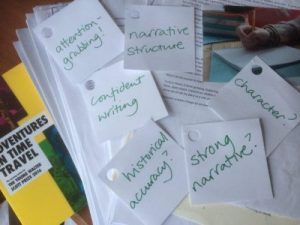 The 2017 Young Walter Scott Prize closed for entries on 31st October 2017.  We were really impressed by the quality and imaginative flair of your stories, and have learnt a great deal about history in reading them.  Everyone who entered has now had some feedback on their story, which we hope will be useful in their progression as a writer.  We wanted to congratulate all our entrants – simply completing a story is a fantastic achievement!
It's been a tough choice, but we have now whittled the entries down to a shortlist of thirty-five, which are listed below.  Shortlisted writers hail from across Scotland, England and Wales; from big cities, small towns and rural villages.  Some have entered via their schools and some have entered individually.  The stories range in historical setting from the first century AD right up to the late 20th century – and feature a panoply of atmospheric locations, from India in the time of Partition, Rhodesia in the 1950s, Russia at the time of Revolution, and various turbulent periods in Scottish and English history.
Entries are judged in two categories – 11 to 15 yrs and 16 to 19 yrs.  We will shortly be announcing the winners in each category – keep watching this space for more details, and in the meantime, congratulations to our thirty-five shortlist stars!
Aamnah of the Partition by Ansa Memon

What we don't yet understand by Carolyn McMurray

Cauld Feet by Callum Sutherland

A Regency Debut by Katie Cottrell

The Clothes Moths by Daisy Simpson

The City of World's Desire by Leonard Belderson

The Start of Solheim by Kirsten Miller

The Tay Bridge Survivor by Vhari Jordan

The Metalworker's Daughter by Elspeth Nicol

Never Drive a Maserati by Madeleine Whitmore

The Picture that Spoke a Thousand Words by Lily-Marie Cheifete-Fong

Edward's Gift by Elia Davidson

Escape to the New World by Romilly Middlemiss

The Very Thought of You by Haaris Luqman

A Suffragette by Beccie White

Kids of War by Mollie Steel

City Living by Georgia Heath

The Hidden Enemy by Maisie Kate Beckett

The New Neighbours by Miranda Barrett

Innocence by Sophie Brown

Two Souls by Roxy Cumming

You Don't Have to be Scared by Rhea Middlemass

The Last Leaf by Darcie Izatt

Sceptres Isle by Sidney Woolf Hoyle

A Life Lost by Emilie Rhiannon Haf Clowry

Memento Mori by Shekinah Vera-Cruz

Whaur th' De'il Danced by Jeny O'Gorman

Riders of the Hills by Jonathan Clarke

The First Bullet by Emma Strutt

Crossing the Line by Krishna Gowda

A Safe Place by Ide Crawford

Dying Stars by Eesha Solanki

A Journal of Joy and Loss by Martha Davey

The False Prophet by Vaneeza Butt

Behind it All by Timothee Hawksley