26th February, 2018
YWSP shortlist now chosen!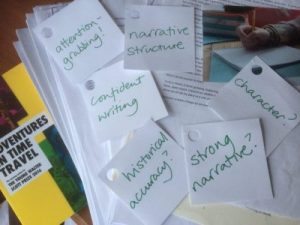 The 2017 Young Walter Scott Prize closed for entries on

31st October 2017

,

and we're delighted to say that we have had more than three times the number of entries this year than in 2016.  We've been really impressed by the quality and imaginative flair of your stories, and have learnt a great deal about history in reading them.  Everyone who entered has now had some feedback on their story, which we hope will be useful in their progression as a writer.  We wanted to congratulate all our entrants – simply completing a story is a fantastic achievement!
It's been a tough choice, but we have now whittled the entries down to a shortlist of thirty-five, and those entrants have been notified that they are through to the next stage.  Shortlisted writers hail from across Scotland, England and Wales; from big cities, small towns and rural villages.  Some have entered via their schools and some have entered individually.  The stories range in historical setting from the first century AD right up to the late 20th century – and feature a panoply of atmospheric locations, from India in the time of Partition, Rhodesia in the 1950s, Russia at the time of Revolution, and various turbulent periods in Scottish and English history.
Entries are judged in two categories – 11 to 15 yrs and 16 to 19 yrs.  The four winners and runners-up will be notified and announced later this Spring, when we hope to also be opening our 2018 Prize.  Keep watching our website and social channels for more news!
The two winners of each category will be offered a travel and research grant to further explore historical places in the UK, and an invitation to the Borders Book Festival in Melrose, Scotland, in June 2018, to receive their prizes. Two runners-up in each category receive a £100 book token, and all four winning stories are published in a special YWSP anthology book.