Imagining History workshops – coming to a place near you!
Come on an Adventure in Time Travel!
We run a programme of creative writing workshops that take place in historical places, called Imagining History.  In these workshops, groups of young writers, guided by a professional writer, have special access to amazing and inspirational historic buildings, sites and landscapes, to do some active exploring and writing, and to be introduced to innovative and unexpected ways of finding the stories lurking there.
We're excited to announce a programme of events being developed in June and July 2017 at the following sites in England and Scotland:
DUMFRIES & GALLOWAY:

5 June: Caerlaverock Castle (11 to 15 yrs)

6 June:  Drumlanrig Castle (11 to 15 yrs)

7 June: Caerlaverock Castle (16 to 19 yrs)

8 June: Drumlanrig Castle  (16 to 19 yrs)

EDINBURGH:

12 June: Trinity House of Leith (16 to 19 yrs)

13 June: Craigmillar Castle, Edinburgh (11 to 15 yrs)

SCOTTISH BORDERS:

14 June: Abbotsford House, Melrose (11 to 15 yrs)

19 June:  Bowhill House, Selkirk (16 to 19 yrs)

NORFOLK

15, 16, 22, 23 June:  Norwich Castle  – short-course in Historical Fiction writing  (16-19 yrs)

28 June: Blickling Hall (16 to 19 yrs)

12 July: Holkham Hall (11 to 15 yrs)

NORTHAMPTONSHIRE

5  July – Boughton House (11 to 15 yrs)

6  July – Boughton House (16 to 19 yrs)
For more information, and how to book, please email info@youngwalterscottprize.co.uk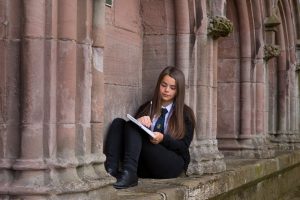 Writing tips
The directors of the Young Walter Scott prize share some advice on getting started
The best way to start isn't necessarily at the beginning. 
Picture a scene you'd like to happen at some point – any point – in your story and write about it.
Have a conversation with one of your characters – ask him or her all the questions to which you need to know the answers. What's their favourite colour? Their favourite food? Least favourite smell? Their greatest fear? Their favourite place? Their politics? You won't necessarily use all that information in your story, but that character will be so much easier to write, and will sound so much more convincing because you know him or her so well.
Start with a mind-map of your story if you don't want to write out a plan in detail. Make it as complicated as you like!
Doodle – who knows what ideas you'll come up with?
What do you want your readers to feel when the story ends? Write the final paragraph.
How do I get beyond Writer's Block?
Walk away from your pencil and paper, or your computer. Go for a walk, a swim, a run, a curry. Then go back to your pencil and paper, or your computer and write a sentence. Then another sentence. Then another.
Write down the names of the characters in your story. Interview them all – find out what they want from the story, or what they don't want from the story. It could be that one of your characters isn't working, and if you remove them, or alter them, the block might dissolve.
Make a mind map of the bits of your story that you haven't yet written. Are there any episodes that don't convince you? Might they be the problem? If you take them out, the story might flow better.
Imagine you're watching your story as a film – decide what the setting would look like, make a list of the props the producers would need, the costumes, the special effects, the sound effects. Then write that scene incorporating some of that detail.
Read some of your favourite poetry or listen to some of your favourite music. How does it make you feel? Write about how you feel when your writing is going well, and read that description back to yourself.
Carry on writing…
Video tips from the masters
Take some advice from some acclaimed authors of historical fiction and previous Walter Scott Prize winners, filmed specially for the YWSP, including  David Almond, Helen Dunmore and Hermione Eyre, whose videos are on our YouTube Channel here