The Young Walter Scott Prize is the UK's only creative writing prize dedicated to historical fiction.  If you are aged between 11 and 19, and have a story to tell that is set in the past, this prize is for you!
Closing soon!
The 2017 Young Walter Scott Prize closes for entries on 31st October 2017.  We're looking for a piece of creative writing between 800 and 2000 words, inspired by any aspect of the past – an actual historical event, place or person.  It just has to be set in a time before you were born – a time recognisably different from the present.  By creative writing we mean prose stories, poetry or drama – and they can be in the form of diaries, letters of reportage – whatever inspires you!
Entries will be judged in two categories – 11 to 15 yrs and 16 to 19 yrs.  The winners of each category will be offered a travel and research grant to further explore historical places in the UK, and an invitation to the Borders Book Festival in Melrose, Scotland, in June 2018, to receive their prizes from the Duke and Duchess of Buccleuch. Two runners-up in each category receive a £100 book token, and all four winning stories are published in a special YWSP anthology book.
All the details, and prize rules, are on our How To Enter page. To help get you started, you can find videos of published authors Val McDermid and Tan Twan Eng giving their Writing Tips, and advice from the directors of the YWSP, on our Inspirations page.
The closing date for this year's competition is 31st October 2017.
Get your story in now!
To find out all about our 2016 winners and their stories, go here.
Imagining History workshops
The link between the hard facts of history and the creative arc of writing fiction is sometimes hard to make.  We run a programme of creative writing workshops that take place in historical places, called Imagining History.  In these workshops, groups of young writers, guided by a professional writer, have special access to historic buildings, sites and landscapes, to do some active exploring and writing, and to be introduced to innovative and unexpected ways of finding the stories lurking there.
The YWSP is building partnerships with organisations such as the National Trust, Historic Environment Scotland, Young Norfolk Arts Trust and the Heritage Education Trust to create unique access-all-areas opportunities for young writers, all over the country.  We are also developing events for teachers and librarians.
In 2017, YWSP's director Alan Caig Wilson ran Imagining History events in Edinburgh, the Borders, Dumfries & Galloway, the Isle of Man, Northamptonshire, Norfolk, and Suffolk.  You can find details of these here.   The final workshop in the 2017 series will take place at Trinity House of Leith on 27th October.  To find out all about it go here.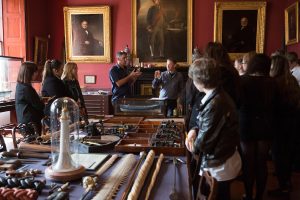 Alan would love to hear from you if you're interested in attending or hosting an Imagining History event.  Please email him at YWSPrize@outlook.com.