10th August, 2017
Imagining History Summer programme completed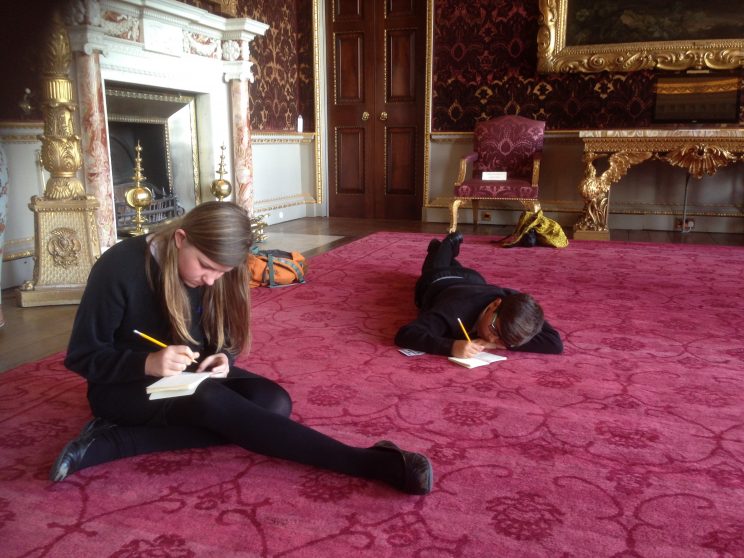 The Young Walter Scott Prize runs a programme of creative writing workshops that take place in historical places, called Imagining History.  In these workshops, groups of young writers, guided by a professional writer, have special access to amazing and inspirational historic buildings, sites and landscapes, to do some active exploring and writing, and to be introduced to innovative and unexpected ways of finding the stories lurking there.
Our Summer 2017 programme has now been completed. We welcomed and inspired young writers and their teachers as they explored historical fiction in situ, during a range of innovative workshops and residencies from Edinburgh to the Isle of Man to Woodbridge in Suffolk.  Many thanks go to our hosts at Trinity House of Leith, Bowhill, Boughton, Blickling, Norwich Castle, the Manx Museum and Sutton Hoo; to our partners Historic Environment Scotland, Buccleuch Living Heritage Trust, Young Norfolk Arts Festival, the National Trust and Norfolk Museums; and to our tutors and collaborators – Elizabeth Ferretti, Joan Lennon, Carly Brown, Dina Gusejnova, Roxanne Matthews, Yvonne Cresswell, Collie Mudie, and Lucy Farrant.  And above all well done 135 young writers from Selkirk, Hawick, Kettering, Norwich, Fakenham, Ramsey and Woodbridge – and of course their brilliant teachers. We look forward to the competition entries rolling in!
The Imagining History 2017 programme was:
ISLE OF MAN:

3 – 6 May: Manx Museum/Ramsey Grammar School

DUMFRIES & GALLOWAY:

5 June: Caerlaverock Castle (11 to 15 yrs)

6 June:  Drumlanrig Castle (11 to 15 yrs)

7 June: Caerlaverock Castle (16 to 19 yrs)

8 June: Drumlanrig Castle  (16 to 19 yrs)

SCOTTISH BORDERS:

14 June: Abbotsford House, Melrose (11 to 15 yrs)

19 June:  Bowhill House, Selkirk (16 to 19 yrs)

NORFOLK

15, 16, 22, 23 June:  Norwich Castle  (16-19 yrs)

'Microscope Worlds' in collaboration with the Young Norfolk Arts Festival.

28 June: Blickling Hall (16 to 19 yrs)

12 July: Holkham Hall (11 to 15 yrs)

NORTHAMPTONSHIRE

5  July – Boughton House (11 to 15 yrs)

6  July – Boughton House (16 to 19 yrs)

SUFFOLK

15 July – Sutton Hoo (11 to 15 yrs)

16 July – Sutton Hoo (16-19 yrs)
WHAT THE EXPERTS ARE SAYING ABOUT OUR WORKSHOPS:
'looking at how you enticed teenagers to build on their conversations with historical witnesses, to develop empathy, and then to create fictional personalities and dialogues in the span of only a few hours, I understood how these other aspects of human imagination can be brought to bear upon historical material.'    Dr Dina Gusejnova, lecturer in Modern History, University of Sheffield

'this fantastic event was interesting and inspiring – it offered a connection to history in an innovative and creative way and it has motivated me to introduce historical fiction writing into my classes'          F.K., James Gillespie's School, Edinburgh
Our director, Alan Caig Wilson, is currently developing the programme for Autumn 2017, and would love to hear from you if you are interested in hosting or attending an Imagining History workshop.  Please contact him at YWSPrize@outlook.com.