24th October, 2017
Why you should enter the YWSP – from last year's winners!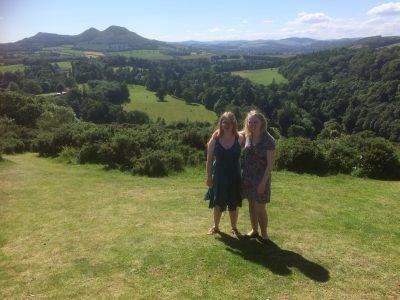 As the deadline for the 2017 YWSP approaches, we asked last year's winners Demelza Mason and Alice Sargent to tell us why it's a great idea to enter the creative writing prize.
'I think the YWSP is the perfect starting point for any writer who lacks confidence in showing their work to other people, as by its very nature any feedback you get is always going to be positive!' says Demelza.   'I think anything that anyone writes should be shared, as stories were created to be passed on to other people. And besides, you'll never know how good your writing is unless you share it!'
'Quite simply, I would say go for it! You have nothing to lose from entering, only a whole lot to gain.' says Alice.   'If you enjoy creative writing, this is the perfect way to take it a step further, and also have a lot of fun along the way.'
The girls went on to describe what they got out of their winning experiences.
'I did thoroughly enjoy the weekend that I spent in Melrose, where we were awarded our prizes at the 2017 Borders Book Festival.' says Alice.  'I was fortunate to meet many famous authors, including Sebastian Barry (winner of the Walter Scott Prize 2017) and Elizabeth Laird (chair of the judges). Being a fan of Elizabeth Laird, it was fantastic to meet her in person and discuss the research trips which she undertook to write her novels. I also enjoyed meeting the other organisers of the prize, who made me feel very welcome during my stay. I was taken to visit local landmarks, which I particularly enjoyed as it was my first time in Scotland.'
Demelza agrees: 'Talking to published authors at the Borders Book Festival makes you realise that you could, eventually, be one of them too. I never thought I was capable of writing a full novel, but after talking to the authors involved in the prize I think at some point I could!  Sebastian Barry was especially kind, and I think he should be an inspiration to writers of any age, everywhere.
The most rewarding part of being a YWSP winner was the realisation that I could write stories that other people would enjoy reading. It boosts your confidence.' 
And what about the future?
'The YWSP has inspired me to write more withing the genre of historical fiction, as this wasn't an area I had considered before.' says Demelza. 'There's so much to write about (thousands of years in fact!), that the possibilities are endless. Plus you discover a whole new area of history each time you write, some of which you never would have thought about before.'
Alice explains: 'Winning this prize has given me a lot more confidence in my writing capabilities; not only in the direct sense of my composition, but also in the research step that I undertook to ensure the historical accuracy of my work. I used a variety of resources to discover the cultures and tribal language of the Cherokee natives, who I was writing about. I found it so interesting that it has encouraged me to study for a degree in History, which I hope will equip me with skills I can then use to enhance my writing.
Indirectly too, it has encouraged me to continue trying to discover new stories that are sometimes forgotten about or lost in our recollection of History. My winning story was about the impact that the Welsh colonisation of Patagonia had on the indigenous Tehuelche people; a topic that has little coverage.'
 So what are you waiting for?  Get your stories in now… the closing date is 31st October 2017.