21st February, 2018
The best competitions for young writers and why you should enter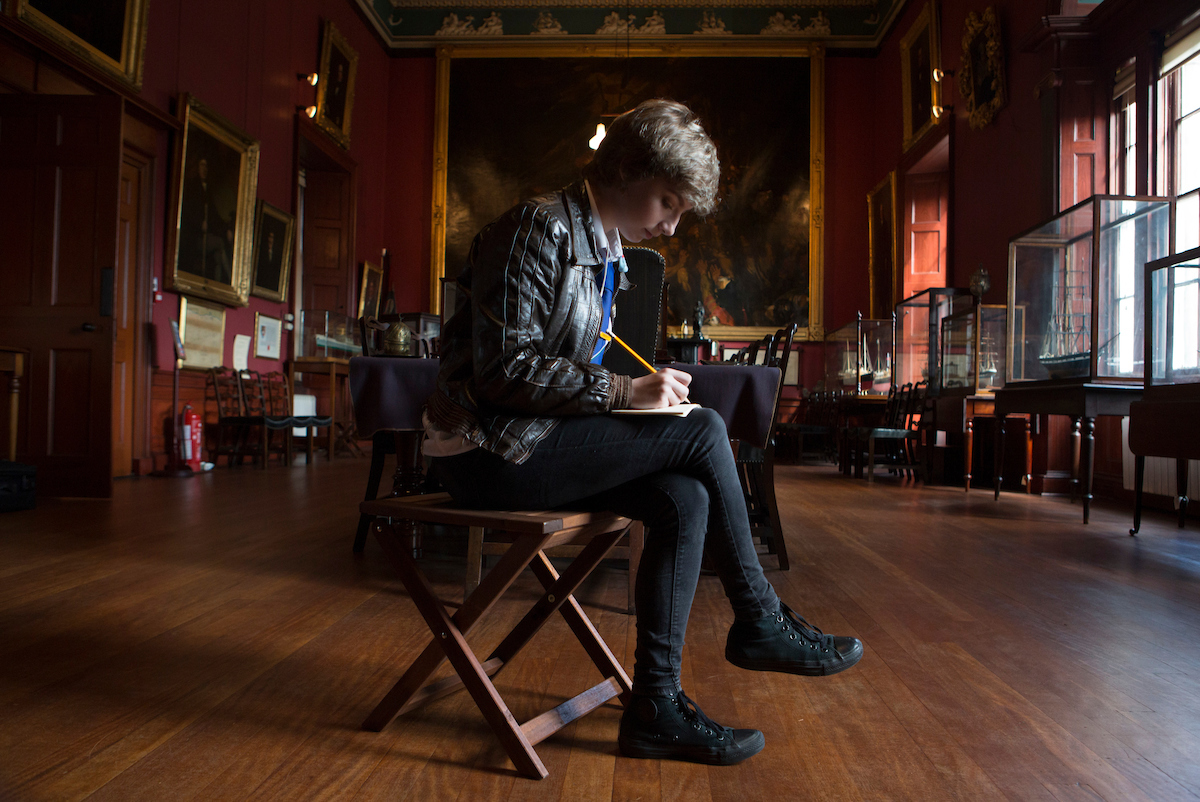 Polishing a piece of creative writing is the best way to make it shine, and writing competitions give you the chance to do exactly this. So why not enter one!
The Young Walter Scott Prize, which is open annually from June through October for writers 11 to 19, is just one of a great list of opportunities for young writers in the UK. Have a look: you could win travel grants, mentoring and workshops with established authors — even have your story published or read live on radio by a top actor.  Here's our pick of the best competitions.
Deadline February – BBC 500 Words
One of the best-known writing competitions, 500 Words, is open to young writers living full-time in the UK, in two age categories: 5 to 9 and 10 to 13. Run by the BBC with support from Oxford University Press, the competition offers of plenty of learning resources on its website, plus details of the special prizes on offer, from free books for your school to tea aboard Her Majesty The Queen's rowbarge. Entries for the 2018 competition must be in by 22 February; check the website for details of each year's competition and up-to-date deadlines. The winners stories are read live on radio by celebrities in a broadcast from Hampton Court Palace on BBC Radio 2's Chris Evans Breakfast Show in June. Find out more at their website.
Deadline March – Wicked Young Writer Awards
There's a huge range of age categories in the Wicked Young Writer Awards, from age 5 to 7 all the way up to 18 to 25, and you can submit plays, stories, poems or essays – anything as long as it's your own writing. The 2018 award deadline is 12 March, your submission must be no longer than 750 words, and you must be living in the UK. The prizes range from book vouchers to tickets for the London production of WICKED to mentoring sessions for older writers. For full details and information go to their website.
Deadline March – BBC Young Writers' Award with First Story and Cambridge University
This writing prize, run by the BBC along with First Story and Cambridge University, could be for you if you're aged 14 to 18 and live in the UK. This year you'll need to get your entry in before 19 March; entries are online but you must have a parent or guardian's permission if you're under 16. The shortlist of five is announced in September; the overall winning story will be read on air by a top actor during an awards ceremony broadcast live on Radio 4's Front Row in October. There's a great chance for the winner to receive mentoring, too: a session with an established author will help develop your writing skills. Learn more and read some of the past shortlisted stories at their website
Deadline July – The Betjeman Poetry Prizes
Poets aged 10 to 13 will appreciate this dedicated award, for poems on the theme of 'place.' You must be living in the UK or Ireland to enter, and get your entry in before 31 July for the 2018 competition. The prize offers £500 to the winning poet and £500 to the English department of his or her school, plus Eurostar tickets for the top three winners, and £50 for two runners-up. Six finalists are also invited to the Betjeman Poetry Camps, and the top 50 poems will be published in an anthology. Entries can be made online, and teachers can upload poems in bulk for a class. See more information on their website.  There's also a unique opportunity for illustrators anywhere in the world aged 18 to 25 to illustrate one of the finalist's poems and be in with a chance to win £1,000. See details of the Lauren Child prize here.
Deadline October – Young Walter Scott Prize
The Young Walter Scott Prize is perfect for you, if you enjoy writing about the past. It's open in two sections, writers aged 11 to 15 and writers 16 to 19, and you must live in the UK. Your work should be at least 800 words and set in a time before you were born, on whatever topic inspires you. It might take the form of a story, an extract from a longer work, diaries, letters, poetry, drama or reportage. Winners receive a £500 travel and research grant and an invitation to the Borders Book Festival in Scotland. Two runners-up in each category receive a £100 book token, and all four winning stories are published in a special YWSP anthology book. The 2018 Young Walter Scott Prize competition opens in June, and entries must be made by post. Find our more at on our How to Enter page.
Deadline December – The Pushkin Prizes
Here's one exclusively for young Scottish writers: pupils in S1 and S2 from any school in Scotland can submit their creative writing folios to be considered for the prize, which offers the chance for 10 students to attend a five-day creative writing course at the Moniack Mhor Writers' Centre near Inverness. In the folio, each student who's entering needs to include three pieces of creative writing (no longer than 1200 words apiece), in any genre. Entries must be made by post. The shortlist is decided in March and winners attend a prize-giving in April. See past winners' anthologies, get advice on preparing a folio and more on their website.
Deadline monthly – The John Byrne Award
Another opportunity here for young writers, but you must be living in Scotland and aged 16 to 25. The John Byrne Award gives £100 monthly (in association with The Skinny) to the best piece of writing. Annually, it gives an overall £1000 prize for the best work drawn from all the John Byrne Award categories (writing, visual arts, video, music) and £500 prizes to runners-up. The John Byrne Award was established to facilitate thinking and debate about values, so keep that in mind if you're submitting. See examples of submitted work and more information at their website.
You'll never know unless you enter, so give it a go!  As two of our recent Young Walter Scott Prize winners said in this frank interview, they never thought they had a chance of winning, but both submitted excellent work that our judges chose as the best in their field. It can feel strange to submit your work, but whether you've ambitions to become an author or just enjoy working with words, do give it a try.
The Young Walter Scott Prize is an annual award and the UK's only creative writing prize dedicated to historical fiction. For more information, subscribe to us on YouTube, or find us Instagram, Twitter or Facebook.