2015 Shortlist announced
24th March, 2015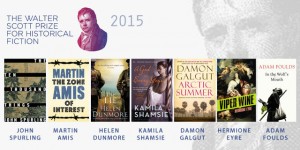 Download and print one of our special Shortlist Posters here:
1279 Walter Scott Prize A3 Shortlist Poster AW 1
1279 Walter Scott Prize A3 Shortlist Poster AW 2
The shortlist for the Walter Scott Prize for Historical Fiction 2015 has been announced, at a reception at 50 Albemarle Street, the London home of Walter Scott's original publisher John Murray. The shortlist comprises seven titles, reflecting the astonishing breadth and diversity of books entered in a bumper year for the Prize.
The shortlist is:
THE ZONE OF INTEREST by Martin Amis (Jonathan Cape)
THE LIE by Helen Dunmore (Windmill)
VIPER WINE by Hermione Eyre (Jonathan Cape)
IN THE WOLF'S MOUTH by Adam Foulds (Jonathan Cape)
ARCTIC SUMMER by Damon Galgut (Atlantic)
A GOD IN EVERY STONE by Kamila Shamsie (Bloomsbury)
THE TEN THOUSAND THINGS by John Spurling (Duckworth)
Announcing the shortlist, the Chair of Judges Alistair Moffat said:
"We had a record number of entries, our most extensive longlist and, as a result, our longest shortlist since the first Walter Scott Prize in 2010. This list of seven fantastic novels represents the diversity and breadth of style that the genre of historical fiction now encompasses – from the poetic to the experimental, and from satire to adventure, writing set in the past can challenge, excite and innovate in a hundred different ways.
"Our 2015 shortlist could easily have been longer, but we hope we have represented the vibrancy of historical writing published in this last year, as well as a broad range of global settings from colonial India to fourteenth century China, Europe during the two world wars, and seventeenth century England."
The winner will be announced on 13th June 2015, at the Brewin Dolphin Borders Book Festival.
See the full press release here:Shortlist press release 2015 final